We drive
progress.
The tallest houses…
The most durable walls…
The longest bridges…
This is a result of work of many experts applying the best available materials and technology which have been perfected over the years. That is how progress works. It is an inherent part of Trzuskawica identity. We are proud to be part of it.

We support key industrial sectors in their dynamic development. We drive them to action. We are the leader in limestone extraction and lime production on the domestic market. Our products are used for construction projects, environmental protection, in agriculture, they are applied in various industries and road construction.
Our values

Our goal is to provide the best quality products and services, along with continuous development of all operational processes. We want our customers to be sure that they receive the highest quality products. We want our employees to feel safe, being able to develop their skills and knowledge in an international environment and to have access to the cutting-edge technologies. We strive to make Trzuskawica S.A. the first choice company for both our customers and our employees.
Our values have been defined in the Policies of Trzuskawica S.A.
The pillars of Trzuskawica S.A.
People
The heart of every company are the people. Therefore we constantly care about safety of our employees and make every effort to provide them with an accident-free and friendly working environment as well as with every opportunity for professional development.
Safety
Safety begins with me – we have been guided by this idea for years now. We always follow safety rules and constantly educate our employees in this area. Due to our efforts in this regard , we can take pride in being awarded with the title of "Safe Quarry".
Quality
Every day we make sure that our products, services and operational processes are of the highest quality. We focus on technological innovations, efficiency and application of the best available solutions.
Relationship
Our cooperation with business partners is always based on trust, support and mutual understanding in terms of expectations. Our main goal is to achieve long-term benefits for both cooperating sides.
Responsibility
We are a socially responsible company. We regard environmental care as our primary responsibility and sustainability as one of our key values.
Experience
We have over 100 years of experience in limestone extraction and its processing . We employ the best industry experts, and in everyday work we combine tradition with innovation.
Integrated
Management
System
The Integrated Management System ensures compliance with all requirements and standards for key systems in the areas of quality, environment protection and energy.
Learn more
The Board
Tomasz Sęk
President of the Management Board
Andrzej Piwowarski
Member of the Management Board
Commercial Director
Aleksander Szyszko
Member of the Management Board
Operations Director
Adrian Kaczmarczyk
Member of the Management Board
Finance Director
Mateusz Zwoliński
Member of the Management Board
Aggregates Director
Małgorzata Klejnowska
Member of the Management Board
CRH is a leading group of global companies producing a wide range of building materials.
For more than four decades, CRH has developed and implemented a successful business model. Well-developed action plans have allowed our shareholders to enjoy a total return (TSR) of 15.8% since establishment of the company in 1970!
The CRH group means:
0

employees around the world

0

locations in several countries on many continents
1910
The history of our company began in 1910. It was then that we started industrial-scale limestone extraction in Sitkówka.
1922 – 1930
In 1922 we launched the first kiln and before the end of the decade we built two more kilns of Koern type, a mill for the production of milled lime, and a milling plant for limestone.
1945 – 1956
The war years in our history are both a period of nationalization and reconstruction of the entire limestone industry in Kielce, Sitkówka and Sobków regions.
1970 – 1977
The 1970s was the time of dynamic development for the company. In 1970 we launched 100C shaft kilns at the "Kowala" Lime Production Plant. Production capacity of each of the six kilns increased to as much as 120 tons per day. In the years 1974–1975 we set up a Lime Production Plant "Trzuskawica". At that time the operation consisted of 12 of 100C shaft kilns, three production lines for hydrated lime, a very modern milling plant and a limestone production line with its capacity of about 4 ml tons. In 1977 we decided to merge "Kowala" and "Trzuskawica" Production Plants and so Limestone Production Plant "Trzuskawica" was established.
1983 – 1988
In the 1980s we built and launched two additional shaft and milling kilns, achieving a maximum production volume of quicklime in 1988 – nearly 1 ml of tons.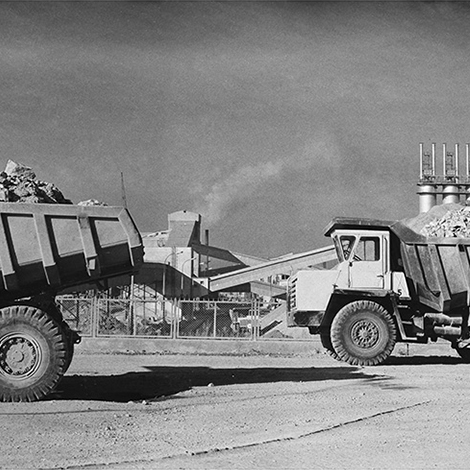 1997
9 years later, in 1997, "Trzuskawica" Limestone Production Plant was transformed from a state-owned enterprise into a company fully owned by the State Treasury, and since then it was operating under the name of Limestone Processing Plant "Trzuskawica" S.A.
2003
The year 2003 could be called another milestone in the history of the company. Limestone Production Plant "Trzuskawica" S.A. was bought by a private Irish group Cement Roadstone Holding (CRH), which is a global leader in the production of building materials. In the same year Trzuskawica S.A. bought the Lime Production Plant "Kujawy Lime"
2007
After four years, "Trzuskawica" and "Kujawy Lime" merged into a single company to be able to operate even more efficiently.
2010 – 2011
The beginning of the last decade is the time of intensive expansion for our company. We then bought granite quarry "Gniewków", basalt quarry "Targowica" and sandstone quarry "Osielec".
2013
In 2013 we changed the name from Limestone Production Plant "Trzuskawica" to "Trzuskawica" S.A. We have been operating under this name ever since, constantly developing our company and optimistically looking ahead at what the future holds for us.